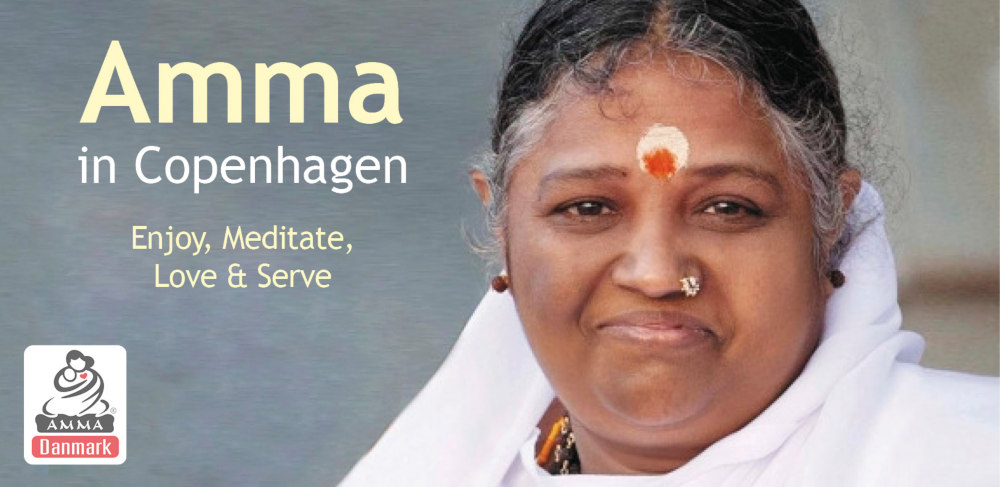 Come and get a very speciel experience at this Amma-event. There is a reason why 39 million people all over the world have reached out to Amma to receive her embrace. Amma´s presence and love is contagious. During the event it is possible to participate in guided meditations, listen to meditative songs/concerts, spirituel talks – and last not least to get Amma's embrace. You can buy delicious Indian and Western food.
Who is Amma?
Mata Amritanandamayi, also known as Amma, is recognized as an outstanding visionary, humanitarian and spiritual leader. She has received numerous international awards. In the last 30 years, Amma has travelled all over the planet and through her presence, wisdom and her special embrace – Darshan – a personal embrace, that touches so many hearts, brought love, hope and peace.
Now, for the second time, Amma is visiting Denmark.
In India she is recognized as a Mahatma (a great soul) and embraces all walks of faith with her message of universal love. Amma is leader of the global, volunteer-based humanitarian NGO, Embracing the World™. Embracing the World is endeavouring to lighten the burden of the world´s poor by meeting their basic needs – food, shelter, education, healthcare and livelihood.
"Amma has done more work than many governments have ever done for their people… her contribution is enormous." -Muhammad Yunus (recipient of Nobel's peaceprize)
Become a volunteer at the event
The two day long event with Amma in Copenhagen is organized solely with the help of volunteers. Many have participated several years at different events with Amma in Europe. To work as a volunteer at Amma´s event is both delightful and a teaching experience at the same time – it opens your heart and broadens your horizon.
If you want to participate, you can sign up as a volunteer helper even before the Amma-event, or spontaniously during the event at Brøndby hall at the desk for volunteer helpers (the seva-desk). We will need helping hands, for instance in the kitchen, at the sales stalls, with logistics and with transportation. We are looking forward to see you.
You can sign up as a volunteer helper before the event at the sevaform here, where you can leave a note about what you prefer to help us with.
The program
Tuesday 22nd of October 2019
Morning program
08.45 – Distribution of free numbers (token) for embrace
10.00 – Amma arrives in the hall. Guided meditation followed by personal embrace (Darshan) up until about 16.00.
Evening program
18.00 – Distribution of free numbers (token) for embrace
19.30 – Spiritual talk by Amma, guided meditation, spiritual songs (bhajans)
22.00 – Personal embrace (Darshan) begins
Amma will receive everyone, who has got a number/ token, and because of that, it is difficult to indicate a finish time for the program in the evening.
Wednesday 23rd of October 2019
Morning program
08.45 – Distribution of free numbers (token) for embrace
10.00 – Amma arrives in the hall. She will guide a meditation followed by personal embrace (darshan) until about 16.
Evening program
17.45 – Distribution of free numbers for embrace
19.00 – Spiritual talk by Amma, peace ceremony (Puja)
21.30 – Devi Bhava begins (special form of Darshan). Everyone can get a number/ token for the Devi Bhava- embrace – also those, who have received an embrace from Amma earlier.
It is difficult to determine a finish time for the Devi Bhava – the program can last into the early hours of the following morning.
Free entrance
The event with Amma is without charge. Reservation is not necessary. Donations for Embracing the Worlds humanitarian work is welcomed.
Number for personal embrace (Darshan)
The personal embrace is organized by a number system. The numbers, also called tokens, are distributed about 75 min. before the arrangement begins. It is not possible to reserve or receive numbers for others. Children and even babies need their own number. In the morning, those who meet Amma for the very first time will have preference.
Catering
A display of various Indian and Western vegetarian food will be available for purchase, as well as snacks, cakes and beverages, all prepared with love by Amma's volunteers.
Children's area
Here you can play with your children. Parents are responsible for their children at any time.
Place
The Amma-event will take place at  Brøndby Hallen, the address is Brøndby Stadion 10, 2605 Brøndbyvester. Parking is free.
Donation
This event with Amma is possible only because many people make donations. Click here to get information on how to donate.
Beautiful moments from the european tour 2011
Beautiful moments of Europe Yatra 2011
Read more
Accommodation
Transportation to Brøndby Hallen
Become a volunteer
Event in 🇩🇰 Danish
View flyer for program