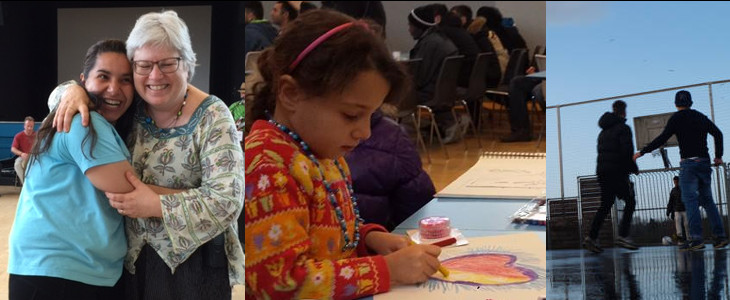 Moder natur kalder dig!
Amma inspirerer os hver eneste dag til, at vi mennesker igen skal få et nært forhold til moder natur. Ikke kun i sine gerninger, men også i sine taler i FN og på den internationale klimakongres i Paris 2015, understreger Amma, hvor vigtigt det er, at vi gør noget for vores planet.
Embracing the World har allerede en masse miljøaktiviteter, hvor Ammas ord omsættes i praksis. Lad os her i Danmark være med! Lad os gøre en indsats for harmonien mellem menneske og natur!
Embracing the World og Center Sandholm
Mange har følt sig inspireret til at lave frivilligt arbejde i Embracing the World (ETW) efter at have fået Ammas darshan og har oplevet, hvor berigende uselvisk arbejde er. I Danmark har ETW et projekt med at bringe mere glæde ind i asylansøgeres liv. Vi startede med at tage op til Center Sandholm og snakke med beboerne for at finde ud af, hvilke aktiviteter de kunne glædes med. De ville gerne spille fodbold, høre musik, danse, lave kreative ting og gerne med noget lækkert hjemmebag til. Desuden ville de også meget gerne på ture. Det var starten på et dejligt bekendtskab og venskab.
Vi har nu udviklet et koncept, som indeholder musik, dans, fodbold, hygge og kreativitet for alle på Center Sandholm. Vi kommer en lørdag eller sødag eftermiddag med hjemmebagte kager, et band, masser af forskellige ting til at lave forskellige former for kreativitet.
Udover musikken har især fodbold, ansigtsmaling og perlesysler været populære, og beboerne har spillet på tromme, danset traditionelle kædedanse og hygget sig i løbet af eftermiddagene.