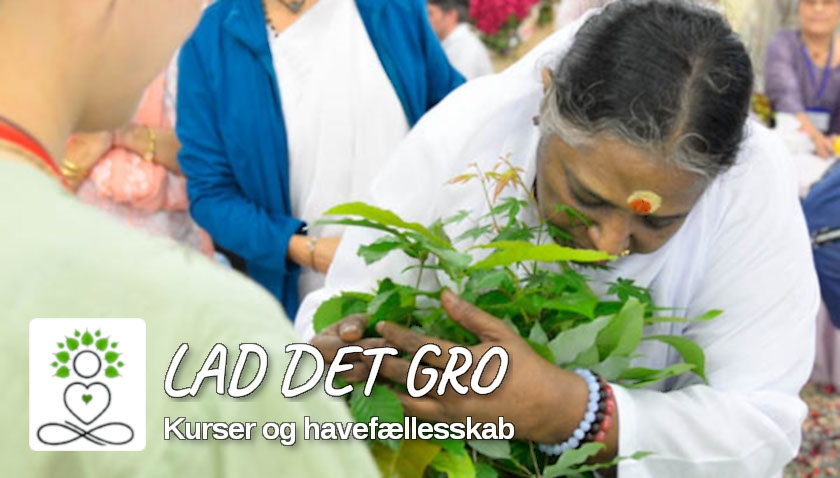 "Dyrk din egen mad, og gør kloden glad"
Lad Det Gro tilbyder et weekendkursus hvert forår – og havefælleskab i løbet af året.
På et weekendkursus, der bliver afholdt i den skønne vår, får du nok viden til, at du kan gå i gang med at dyrke økologiske grøntsager, frugt og urter på din altan, i din lejlighed eller i din have.
På kurset bruger vi den engelske lærebog GetGrowing, samt supplerer med havebøger af dygtige danske dyrkere af grøntsager, frugter, urter og meget mere.
Lad Det Gro er den danske udgave af GetGrowing, som er en del af Embracing the World, Green Friends-afdelingen.
Et citat af Amma, som har grundlagt Embracing the World:
"Hvis alle mennesker dyrkede deres egen mad til bare én dags forbrug, ville det forbedre klodens tilstand. Denne relation til naturen vil desuden give os ny vitalitet og livsglæde."
Underviserne har tilsammen masser af viden og erfaring i at dyrke glade grøntsager, frugter, urter og vil gerne give den videre.
Sted, pris og kontaktoplysninger
Kurset arrangeres oftest afholdt i Brede ved 2800 Lyngby. Men kan også afholdes i Jylland eller på Fyn.
Prisen for kurset er ca. 400 kr. Selve undervisningen er gratis. Prisen dækker den engelske lærebog 'GetGrowing', materialer på dansk, frø/potter/jord og lokaler, samt kaffe/te og kage.
Et eventuelt overskud går til Ammas velgørenhedsarbejde i Embracing the World, som er en NGO i mere end 40 lande, der bl.a. arbejder for at skabe harmoni mellem mennesker og naturen. Se mere her.
Vil du i kontakt med Lad Det Gro teamet, så skriv til e-mailen: laddetgro@amma-danmark.dk – eller ring på (+45) 2121 5002. Vi glæder os til at høre fra dig.